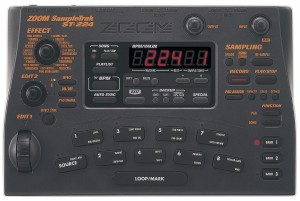 During the late 90's started the phrase sampler commercial boom.
All the big brand had their "groove sampler" for the "groove musician".
Boss started their SP-serie , Korg marketed the ES-1 , Akai had the Remix16 (mid 90's) then the s-20, Yamaha presented their SU-serie.
Zoom came out with the ST-224 Sampletrack in 1999, a cheap alternative to the Korg Es-1 and Boss SP-303.
The Zoom can store up to 32 samples in memory and has a 3 bank kit with 24 samples in use max (8 samples x 3 kit= 24 samples).
There are 3 sample grades: Hi-fi 32 kHz , Standard 16kHz , Lo-fi 8kHz with 18 bit DAC.
The effect bank is really useful for creative manipulation of the recorded material but even to process audio in signals.
This machine is quite basic but has some really interesting features.
It can play samples with different samplerates in the same kit
resampling from the main out (it means you can resample a pattern with effects)
a bunch of interesting and useful effects that can be used even on "audio in" material, not only on samples
A great PITCH function (+/- 36 semitones)
pitch scaling (to play a sample chromatically on the pads).
Compared to other samplers of that period the zoom lacked a real sequencer and had no envelope for amplitude modulation.
On the other hand the pitch function is the best found on this kind of sampler, and the sound is really grainy (in lo-fi mode) to be up there with the old ones like the Akai mpc60 and Emu SP1200.
The Sampletrack was targeted to loops sampling/play this is the reason why the sequencer has only 8 songs and only realtime recording.
The good point is that the quantize and shuffle functions are really effective on one shot samples, making the sampletrack a really good beatbox.
The resampling capabilities of resample its own patterns with the sequencer running (not possible on the others loop samplers) together with the effects make the zoom stand up.
There is an application (for Windows users) that can be really handy , ZMF Producer, that let you edit and program all the parameters and samples stored on the smartmedia card and to load .wav and .aiff files on the machine.
This is an all in one great beatbox for hip hop / trip hop production, give it a try!